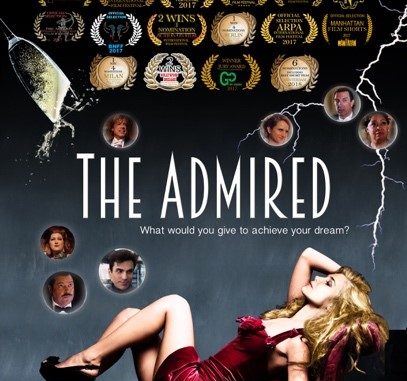 (Los Angeles, CA — February 8, 2018) When you have an original short film with multiple lauds, that is honored with an astonishing 41 awards including 10 awards for Best Short Film, 7 awards for Best Lead Actress (Jacqueline Murphy), 4 awards for Best Original Screenplay, 2 awards for Best Directing & 3 awards for Best Costume & Makeup with an additional 18 nominations in categories including directing, cinematography, original music, and lead/supporting actor and is selected as a tent-pole short in 22 official film festivals, one has a hands-down favorite ripe to not only fast-track several careers but segue into other entertainment formats. http://www.theadmired.com/
Producer/star JACQUELINE MURPHY conceived "The Admired"
as a universal story of dreams, desires and the extreme measures one goes to on the path to achieve them. Jacqueline makes her directorial debut with "The Admired". To date "The Admired" has been in 22 film festivals including the London International Filmmaker Festival of World Cinema, Berlin International Filmmaker Festival of World Cinema, WorldFest Houston & ARPA International Film Festival.
"The Admired" which combines the golden age of Hollywood with fantasy, time travel and glamour leaves the audience wanting more episodes. It was one of the leading contenders for "Best Short Form Drama" in multiple categories as best web series of 2017, and was a clear-cut standout of the FYC EMMY 2017 Nomination race in 6 categories
Take a look: TRAILER LINK: https://youtu.be/_qJmiVfq7gc
http://www.imdb.com/title/tt4899664/?ref_=nm_flmg_act_5
Murphy, best known for her diverse work in films like "Run All Night" and top TV series including "Law & Order," has crafted the compelling lead, 'Olivia Spencer' (Jacqueline Murphy), as an imaginative actress, who dreams of being a 1940's Hollywood movie star. Her drive is both her greatest asset and her worst enemy as she finds herself down on her luck with yet another failed audition and fantasizes about emulating the beautiful glamorous Hollywood movie stars of the 1940's. She gets her wish when she meets a handsome "Devil" name Mr. Z (Leon Winters), who seduces her with his magical tarot card readings and his charms traveling her back in time to The Cicada Club, the hottest jazz nightclub in old Hollywood. There she is hurdled into a world of danger, fear and heartbreak. The stunning cinematography and the beautiful score by Golden Globe winning composer Ruy Folguera ("Rush Hour," "Nina Simone") takes the audience on a fantastical journey back into the most glamorous period as Olivia continues to search for self-empowerment, happiness, creative fulfillment and the ultimate reward.
"The Admired" is currently being adapted for a TV Series and expanding into a feature film.
Contact: Monique Moss, Integrated PR 310-858-8230 monique@integrated-pr.com