By: Peter Joneleit
    IPAnews.com
Chino, CA: This past week thousands of people made their way to the Chino Airport for the annual Planes of Fame Airshow. The Planes of Fame Airshow is unique to the vast majority of airshows done annually because the majority of aircraft are living (or flying) history.  Most of the aircraft flown are historical, some the last flying samples in the world, which makes this air show a must each year and a bucket list item for those far away.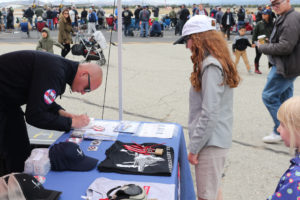 The Planes of Fame air museum was founded by Edward Maloney in 1957 (then The Air Museum in Claremont, CA). Ed Maloney had the foresight to rescue some of the thousands of military aircraft being destroyed after World War 2 for scrap so they could be preserved for future generations.  Planes of Fame now has two museums located in both Chino, CA and Valle, AZ.
Attendees of the events were privileged to see aircraft from many historical time periods. From the WW2 era, some of the aircraft the crowds were fortunate to see flying included the P-38J Lighting, the SBD Dauntless, TBM-3E Avenger, five Corsairs, the P-40 Warhawk, the P-51 Mustang, and one of the last flying A6M5 Zeros, BT-25 Val, plus bombers such as the B-25J Mitchell and PB4Y2. Aircraft from later wars included the F-86F Sabre, CT-133 Shooting Star, MiG-15 Fagot, the F7F Tigercat, and AD-4N Skyraider.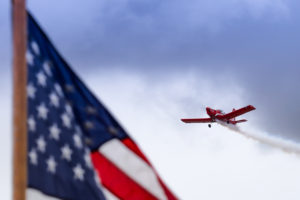 In addition to the older era warbirds, there were also some very special planes flying over the skies of Chino during this year's air show. These included the last remaining flying N9MB Flying Wing, whose home is at Planes of Fame in Chino, the Tumbling Bear, Philipp Steinbach Gamebird GB1, and Kent Putsch in his acrobatic Jelly Belly airplane.  Also included was the most advanced fighter plane in the world, USAF F-35 Lightning II.  While the Lighting II didn't display it's full flight capability, it did perform a couple of passes in the heritage flight formation and a couple passes after.  It was a very special guest appearance to this year's airshow and shows the growing popularity and national stage that the Planes of Fame Airshow has grown into.
For those that attended, it was a memorable time with amazing flying aircraft and many more on static display plus a WW2 camp site with a Sherman tank, not to mention the wonderful venues and food. For those that missed this year's Planes of Fame airshow in Chino, now is the time to put next year's on the calendar.  Also, don't forget the monthly Living History Flying Day held each Saturday at 10AM at the Chino museum.  Check their website at: www.planesoffame.org.