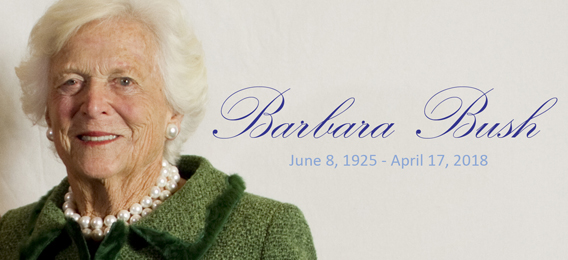 NRB members have been encouraging prayers for the Bush family following the passing of former First Lady Barbara Bush on Tuesday.
"NRB mourns the passing of Barbara Bush, who epitomized the virtues and attributes of what a First Lady ought to be," commented Dr. Jerry A. Johnson, president & CEO of NRB. "I urge all our members to lift up the Bush family during this time of grieving."
"Barbara Bush was a woman of deep faith," noted Jim Daly, president of Focus on the Family, in a blog post. "Please join me in thanking the Lord for the long and storied life of Barbara Pierce Bush, and also let us pray for her family who grieves her passing."
After serving as Second Lady from 1981 to 1989, Bush served as First Lady of the United States when her husband won the presidency. During her time in the White House, Bush accompanied her husband to the NRB Convention on at least two of the five occasions at which he spoke, including the 1992 Convention at which Billy Graham was also a speaker.