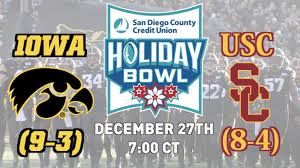 By Paul Bartelt 
Sports Editor, IPAnews
No. 16 IOWA 49 vs. No. 22 USC 24
San Diego- Playing only 120 miles from their campus, it should have been a home game for the USC Trojans football team, but Iowa came to play and traveled enough fans to fill half of SDCCU Stadium. Both teams won five of their last six games earning them the right to play in an NCAA post season Bowl game. Iowa, 9-3, lost only three games this season by a combined 14 points. USC freshman quarterback Kedon Slovis threw for over 400 yards and four touchdown passes in four games this season earning him Pac 12 Freshman Player of the Year honors.
Before 50,123 fans and a FOX national television audience Friday evening, Iowa outscored USC 21 to 7 in the second half on their way to a 49-24 Holiday Bowl victory. After each team drove twice over 70 yards scoring on their first two possessions, the game was tied 14-14 in the second quarter. Following the Trojans second touchdown, Iowa's Ihmir Smith-Marsette returned a Trojan kick-off 98 yards for a touchdown and, on the Hawkeyes next possession following a USC punt, Smith-Marsette caught a 12 yard touchdown pass as Iowa took a 28-14 lead with 1:18 remaining before halftime. USC was able to drive 61 yards on 11 plays, highlighted by a Slovis 25 yard pass to Amon-Ra St. Brown, that led to a 32 yard Chase Mc Grath field goal ending the first half of play.
In the third quarter, Slovis compleated another deep pass to Ra-St. Brown before tailback Stephen Carr scored on a 2 yard touchdown run making the score 28-24. USC then recovered an onside kickoff and shortly threre after, Slovis injured his shoulder after being hit attempting to pass and was replaced for the remainder of the game by Matt Fink. On Iowa's next possession quarterback Nate Stanley drove the Hawkeyes 90 yards on 14 plays while compleating two third down passes, that included a 34 yard reception to running back Keontae Luckott, setting up Tyler Goodsons 15 yard touchdown run.
In the fourth quarter Iowa recoved a USC shotgun snap leading to a 6 yard touchdown pass and later the Hawkeyes intercepted Fink returning it 25 yards for a touchdown with 1:43 remaining in the game
With only four seniors starting for the Trojans, USC was only able to rush for only 22 yards against Iowa's stingy defense. Without Slovis at quarterback for the Trojans, Iowa was able to pull away in the second half. The Hawkeyes defense did not allow more than 24 points in a game this season and only four opponents threw for more than 200 yards. Iowa finished without a turnover as USC turned the ball over three times with two fumbles and an interception.