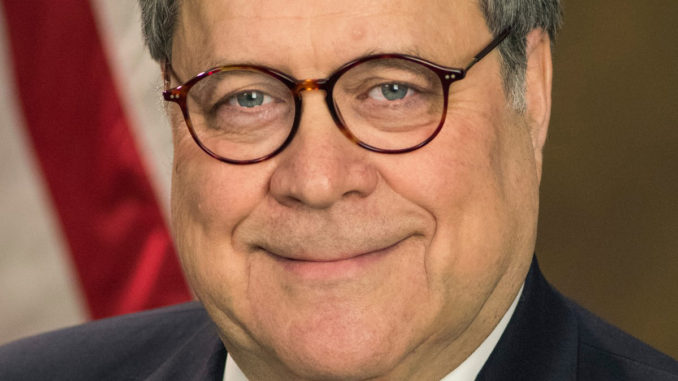 December 16, 2020
On Monday evening, Dec. 14, President Trump announced Attorney General William Barr's resignation. According to President Trump's tweet, Barr is set to leave on Dec. 23 and Deputy Attorney General Jeffrey Rosen will become the acting attorney general. President-elect Joe Biden has yet to indicate who he will nominate to the post when he is inaugurated next month.
Barr served as attorney general of the United States from 1991-93 during President George H.W. Bush's administration and then again beginning in 2019 during President Trump's administration. He was only the second person in U.S. history to serve as attorney general at two different times.
"We have been blessed to have William Barr as attorney general over the past nearly two years. He is a champion for protecting religious liberty and made it a priority for the Department of Justice – whether it be ensuring the Constitutional rights of religious organizations or his concerns related to online viewpoint censorship," said Troy Miller, CEO of NRB. "He truly recognized and appreciated the value of the work of NRB members to society."
During his career as attorney general, Barr brought the Justice Department closer to the White House, advocated for expansive presidential powers, and protected religious liberty.
Barr viewed social media censorship as problematic and lead the Department of Justice in outlining proposals that would limit platforms' ability to remove posts and remove liability protection for encrypted platforms.
"You can take down stuff that is unlawful and you can take down stuff that does not accord with your terms of service," Barr said. "But you have to make your terms of service clear. You have to have a reasonably-based reason for taking down."
As the country responded to the COVID-19 pandemic, Barr adamantly defended the First Amendment and federal statutory law prohibiting discrimination against religious institutions and religious believers, leading the department to intervene in multiple disputes between church leader and state governments related to COVID-19 regulations. In April, Barr issued a statement on religious practice and social distancing in regards to a Mississippi church case.
On April 27, Barr announced an initiative directing Assistant Attorney General for Civil Rights, Eric Dereiband, and the U.S. Attorney for the Eastern District of Michigan, Matthew Schneider, to review governmental policies around the country to ensure that civil liberties were protected during the COVID-19 pandemic.
As a part of this initiative, the Department of Justice filed a Statement of Interest supporting the efforts of Capitol Hill Baptist Church to meet safely outdoors during the COVID-19 pandemic. Under Barr's leadership, the department argued that "The Constitution and federal law require the District of Columbia to accommodate Capitol Hill Baptist Church's effort to hold worship services outdoors, at least to the same extent the District of Columbia allows other forms of outdoor First Amendment activity, such as peaceful protests."
Over the last several months, the department has interceded on behalf of churches and seen most state governments respond by amending their restrictions.
Throughout his career, Barr has kept religious liberty as a priority.
In February, Barr spoke at the NRB 2020 Christian Media Convention in Nashville, Tennessee commending members of the Christian media for their role in countering the effort to drive religion — "long an essential pillar of our society"— from the public square.
You can view Barr's speech here.