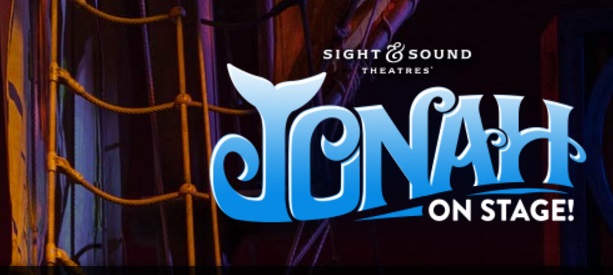 FROM BIG STAGE TO BIG SCREEN:
'SIGHT & SOUND THEATRES®'
'JONAH: On Stage!'
SPLASHES INTO CINEMAS
One-Night Fathom Event in Over 600 Theatres
Nationwide, Tuesday, May 2
JonahOnStageMovie.com
WHAT Sight & Sound is taking its hit musical to the big screen. After being filmed before a live audience at the spectacular Lancaster, PA theater, JONAH: On Stage! will be featured on over 600 movie screens nationwide for a one-night event.

WHO Produced by Sight & Sound, in partnership with Fathom Events. Sight & Sound's four decades of bringing Bible stories to life on stage in epic scale now draws millions of people each year to their locations in Lancaster, PA and Branson, MO.

WHEN  In select cinemas nationwide on Tuesday, May 2, 2017, at 7 p.m. local time. Check local listings. Find locations, buy tickets JonahOnStageMovie.com

SYNOPSIS JONAH: On Stage! From the pages of the Bible to the theatrical stage and now, in select movie theaters for one incredible night …

Get ready for a jaw-dropping adventure for the whole family as one of the Bible's biggest stories comes to life in Sight & Sound's JONAH: On Stage! This special one-night event will be in select cinemas on Tuesday, May 2, only.

Filmed in front of a live audience at Sight & Sound Theatres in Lancaster, Pennsylvania, JONAH: On Stage! brings to life the journey of this lovable, yet stubborn prophet. This spectacular performance offers delightful humor, cinematic music, massive sets, amazing costumes and a breath-taking underwater scene featuring a huge 40-foot whale—with one big appetite!

When God calls Jonah to offer mercy and forgiveness to the people of Nineveh, he runs straight … in the opposite direction! As is often the case, one bad choice leads to another and soon Jonah's "get-away" ship is on the verge of destruction amidst a terrible storm. To save themselves, the ship's crew tosses Jonah overboard … and into the waiting mouth of one ginormous fish.

But as Jonah discovers, God is always willing to offer anyone another chance—Ninevites and run-away prophets alike! Experience the hit musical that more than 1 million people have enjoyed at Sight & Sound as JONAH: On Stage! plays in select cinemas only on Tuesday, May 2.

NEWS HOOKS How does a company known for big stage shows make the transition to the big screen? Why are faith audiences so receptive? And what does Sight & Sound hope to gain?

THE TREND The Life Cycle of a Stage Musical, and the Market for Faith-Affirming Entertainment  Live musicals turned movies are hardly new. West Side Story and Chicago, for example, drew top awards. And think of TV's live musicals, like Grease and The Sound of Music. The Broadway HD subscription service, meanwhile, streams recorded versions of Broadway shows to your home. Now comes JONAH: On Stage! in over 600 theatres nationwide for one big night, as Sight & Sound Theatres brings the filmed version of its epic stage production to the big screen. Ask the show's producers how they scaled a massive stage production for film—and why it works.

WHO WAS JONAH?  The prophet who said no to God. In the Old Testament, when God tells Jonah to go preach to the people of Nineveh…Jonah runs in the other direction. Ask the creative team behind Jonah's story why a reluctant prophet is prime material for an epic musical.

EXECUTIVE PRODUCER Josh Enck

PRODUCER Dan Deal

DIRECTOR Dan Deal

WRITER Jeff Bender

ADDITIONAL INFORMATION

For tickets and more information, visit JonahOnStageMovie.com

For interviews, contact:  Michael Conrad  Michael@Lovell-Fairchild.com 214-616-0320

Visit Lovell-Fairchild.com for:
Sight & Sound JONAH: On Stage! media tip sheet
Sight & Sound Theatres backgrounder
Q&A with CEO Matt Neff
Suggested interview questions
Sight & Sound Theatres® Overview Sight & Sound® takes theater to a whole new level. Every show is an epic experience with a meaningful message. Edge-of-your-seat action meets heartfelt drama on a panoramic stage. Surround yourself with uplifting Bible stories brought to life by an exceptional cast, spectacular special effects, massive sets and live animals—on stage and in the aisles.