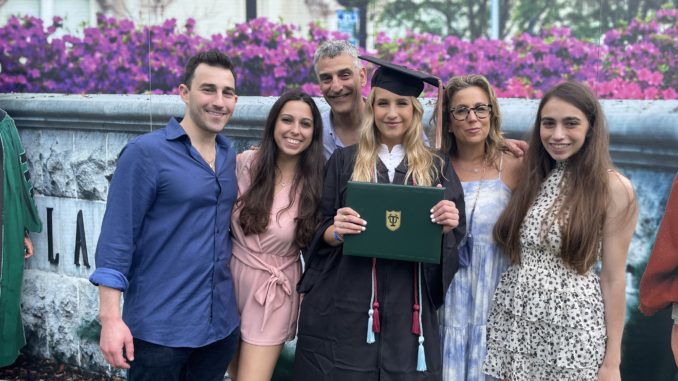 By: Jonathan Feldstein
My social media has been full of proud parents posting pictures of their high school, college, and graduate school graduates which no doubt comes with extra meaning on the heels of a pandemic that's interrupted so many of our lives. As happy as I am for my friends and their children, I can't help but look at each of these pictures through a prism of current events in Israel.
I am proud of my daughter and son-in-law who are also graduating this year. However, in Israel, ceremonies marking their accomplishments are more toned down than they otherwise would be. In the case of my daughter who is receiving an award for excellence, the ceremony was delayed by three weeks because of "the situation."
In shorthand, that means because Israel was under a barrage of thousands of rockets, nobody wanted to get together in groups greater than the capacity for nearby bomb shelters for the fear of a rocket and a mass casualty incident. This is a stark contrast to on the pictures I've seen of scores of young men and women packing in stadiums, auditoriums, or on plush quadrangles, (even socially distant) listening to inspirational remarks and receiving their degrees.
As much as my friends deeply care about and support Israel, I don't imagine any of them considered for a moment how in Israel large gatherings were not taking place, not because of a virus, but because of terrorists.
I am glad for that. It's a situation that I don't wish upon anybody. But it is jarring all the same. I'm trying to imagine my own college graduation, with thousands of people packing Emory quad, running for cover to bomb shelters in any of the beautiful academic buildings on its periphery. Of course, the fact that none of the academic buildings in which I studied even have bomb shelters is evidence of a completely different reality.
All this became more vivid this week visiting Sderot, the Israeli city literally adjacent to the border with Gaza, and which has been subject to tens of thousands of rockets and missiles fired at its population over the past two decades. In our most recent "conflict," some 300 rockets were fired directly at the city and it's 30,000 plus residents. A certain percent got through the Iron Dome, damaging property, injuring many, increasing trauma, and even killing a five-year-old boy in his family's bomb shelter which took a direct hit.
When I visited, his mother was still in the hospital, and his family is grieving. Surely, they are not thinking about his college graduation now. But his death is not just a loss for his family, but also a loss of the tremendous potential that we celebrate when our children graduate and become independent adults. His parents will never have that privilege.
I was moved to tears visiting a program for at risk youth. The children come from homes that are not safe, where they have suffered various kinds of abuse or neglect, whose families often have no money for food, or the parents are too traumatized themselves, and incapable of raising their own children. This is the last stop before they are taken out of their home and put into foster care, typically not a win-win scenario.
During the recent "conflict," the children were unable to come to the community centers where the programs take place. So, the staff had to go door to door, wearing ceramic vests and helmets, to check on the kids and their families in between barrages of rockets.
I went there as part of the Israel Emergency Relief Campaign that was established by the Genesis 123 Foundation, to disburse some of the funds from generous Jewish and Christian donors all over the world. Our original thought was to bring physical things to engage, entertain, and occupy the children, especially at times of heightened trauma and fear. We were told that as much as it is generous to bring them things, what was necessary was funding for increased therapeutic treatments.
They currently provide animal therapy, art therapy, and even juggling as a way to engage children to be able to speak about, and manage if not overcome, their trauma. For children like this, trauma is not only in the form of rockets from terrorists, but from living in homes where they understand that their parents are not capable protecting or providing for them as other children take for granted. However, when there are physical threats from terrorists, and thousands of rockets fired overhead, their overall level of trauma increases significantly, and any achievements that have been made in their treatment take many steps back.
They also get two homemade hot meals at the center, which is two hot meals more than they would receive if they were at home under their parents' care.
I asked what the greatest and most immediate needs were. The therapists had a hard time deciding between increasing the existing therapies and treatments, including psychological counseling, or offering new treatments that they've wanted to do for a while, including dog therapy and dance therapy.
The dog therapy alone costs $25,000 just for half a year. As torn as they were about how to allocate additional funds, it became clear that the priority was to increase more of what they do already, without having the resources to make a full commitment for six months of dog or dance therapy.
I was choked up multiple times as we sat there looking at these beautiful children just needing some extra love and support. I realized that no matter how much we had to give them that day, it didn't begin to come close to what was enough.
We left grateful and inspired. These children were born into a situation of only knowing the threat of rocket fire on their homes and the resulting trauma. That's not likely to change anytime soon. I wonder, more than rhetorically, what their parents hope for them when they reach their late teens and early 20s, the time the children typically go off to college and have life experiences as independent adults.
Forget the fact that the parents may not have capabilities to help their children implement their dreams. What does raising a child in such a situation do to a parent and his or her dreams and hopes for their child's future?
For those who just celebrated the graduation of their child or grandchild, or know somebody who did, or for those who just have a giving heart and want to help at-risk children to live their lives with trauma as a constant, the Genesis 123 Foundation needs as many helping hands as possible. Please consider giving generously. There's a generous matching gift as well. I pray that we will raise enough money to provide abundant supplemental therapies that the children are already receiving, and to be able to provide a full year, or two, of dog or dance therapy to strengthen each of the children. I pray that we will help each boy and girl today, so when they reach the age and stage of life of those whose achievements we celebrate as graduates now, nobody will ever know the trauma of what they suffered as young children today.