By: Cheryl Hancock-Watts
March 22, 2017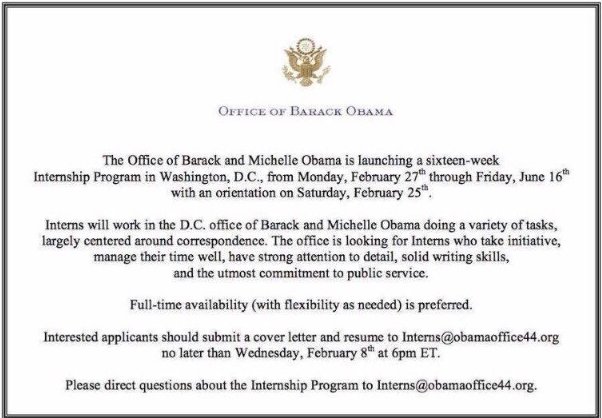 After I received an email from "The Office of Barack and Michelle Obama", I wondered why former President Obama is building a media list from those of us who are subscribed to White House email press updates. Mr. Obama has invited journalists including myself to join his news list, and he added, "As we build up our press list, please sign up for statement notifications and feel free to share with your colleagues as well."
Not only is Obama enlisting journalists, but he is also hiring Interns. Former President Obama has contacted the list of former White House Interns as he seeks to hire them for his Organization. 'The Office of Barack and Michelle Obama' announced that they were launching a 16-week internship program in D.C.  The email said responsibilities would include a variety of tasks, with an emphasis on correspondence duties. The internship will run from Feb. 27 through June 16. There were no additional details explaining undergraduate or graduate qualifications or whether or not it was unpaid or paid. Report by: Rachel Cao February, 2017 CNBC
Following are just some of the things the office of Obama is working on, or already have in place:
A Spokesperson: Kevin Lewis
A Press Office & Press List
A Media Organization (Newsone.com)
Former Whitehouse Interns (Interns@obamaoffice44.org.)
A Non-Profit Organization (Barackobamafoundation.com)
The Barack Obama Presidential Center in Chicago
An 'Organization for Action' (OFA.US)
At the website of barackobama.com you will find the following message: "Welcome to the Office of Barack and Michelle Obama" As President Obama has said, the change we seek will take longer than one term or one presidency. Real change—big change—takes many years and requires each generation to embrace the obligations and opportunities that come with the title of Citizen.
Following is a portion of Obama's Farewell Speech in Chicago made on January 10th. "My fellow Americans, it has been the honor of my life to serve you. I won't stop; in fact, I will be right there with you, as a citizen, for all my remaining days."
After their recent vacation, Barack and Michelle Obama are re-settling in Washington DC, just two miles from the White House.
At Mr. Obama's Foundation site, he explains a bit of his goal. "The Obama Foundation is a non-profit organization that will focus on developing the next generation of citizens…". The foundation will oversee the new 'Barack Obama Presidential Center'. Obama said, "The center will be based in Chicago, but it will have projects all over the city, the country, and the world."
Another one of his larger organizations OFA.US or 'Organization for Action', "Is committed to mobilizing and training the next generation of progressive organizers and leaders, because real, lasting change doesn't just happen on its own."
With more than 250 local chapters around the country, OFA volunteers are building this organization from the ground up, "We're committed to finding and training the next generation of great progressive organizers."
New OFA fellow managers and campus coaches from across the country met recently in Chicago where they encouraged one another and prepared for a spring full of training new organizers.
46 leaders from 24 states, volunteers that have stepped up to manage Community Engagement and mentor students in OFA's Campus Academy huddled together in Chicago to get trained on the tools and best practices they'll need to make their programs a success.
From the OFA website, "The Americans who've taken action with OFA are part of a long line of people who take on the big fights. It means calling for lawmakers to stop standing in the way of Climate Change, Immigration Reform, Economic Opportunity, Expanding Equality, Gun Violence Prevention, and Health Care." Obama went on to say, "It's troubling to see years of progress and hard work on the line, but here's how community organizers get through it: We take action."
During an interview with Rolling Stone, when Obama was still the President, he shared that after his term comes to an end, he and his wife will be involved in politics at a grassroots level. He also shared that once he's out of office, he will focus on penning a book and cultivating his presidential center. "I'm gonna be organizing my presidential center, which is gonna be focused on precisely this issue of how do we train and empower the next generation of leadership," Obama said. "How do we rethink our storytelling, the messaging and the use of technology and digital media, so that we can make a persuasive case across the nation?"
The following is a statement from an article printed on February 26, 2017 from the 'International Christian Zionist Center'.
"A movement called Organizing for Action (OFA) led by the former president Barack Obama aims to set up 250 offices across the country and utilize an estimated 30,000 agitators to discredit and resist our new leadership". They asked for prayer for the United States President Trump and his Administration.