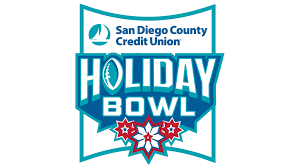 By Paul Bartelt
IPA Sports Editor
San Diego, Ca. Over the last year, the 2020 San Diego County Credit Union (SDCCU) Holiday Bowl was canceled due to COVID-19 restrictions and Qualcomm Stadium was torn down after hosting the college Bowl game for 42 years. The San Diego Bowl Game Association announced earlier this week a partnership with the San Diego Padres moving the SDCCU Holiday Bowl downtown to Petco Park. This years game will kickoff at 5 pm on December 28.
" Petco Park will take us to the next level," said Holiday Bowl CEO Mark Neville. "The excitement downtown with the fans coming, staying in the hotels around here, and the weeklong festIvities we're going to be putting on."
This seasons college football game will feature a Power 5 team, as the PAC 12 Conference will be playing a tam from the Atlantic Coast Conference. This years SDCCU Holiday Bowl will be broadcast live on FOX TV.
Petco Park seats will be modified to increase stadium capacity from 44,649 to 50,000 . The Holiday Bowl debuted in 1978 and the Bowl game has averaged 52,000 fans over the last 20 years. The game has provided $977 million dollars of economic impact benefiting the regin and filled 800,000 hotel rooms.
SDCCU supports 75 non profit orginazations each year. For 2021 SDCCU Holiday Bowl ticket information, please go to www.holidaybowl.com.