'Political Reasons' Prompt Israel Festival Jerusalem Cancellation
Portugal's Tiago Rodrigues announces he will not attend this year's events
May 21, 2018 —- Portuguese playwright Tiago Rodrigues last week informed the Israel Festival Jerusalem's management that he was canceling his performance at this year's festival for "political reasons." Rodrigues was scheduled to perform "By Heart" on June 4 and 5.
"The performance by Tiago Rodrigues is about memory as a tool to combat the restriction of freedom of expression," said Festival CEO Eyal Sher, who expressed disappointment at the artist's unilateral political stance on the complex conflict between Palestinians and Israelis. "The Israel Festival has a deep belief in the power of art to express new points of reference, open up people to the recognition of the 'other,' and to promote understanding and tolerance."
The Israel Festival is offering patrons who purchased tickets to Rodrigues a full refund or exchange to another show at the same price.
For more information: Maayan Jaffe, jaffemaayan@gmail.com or 050-718-9742.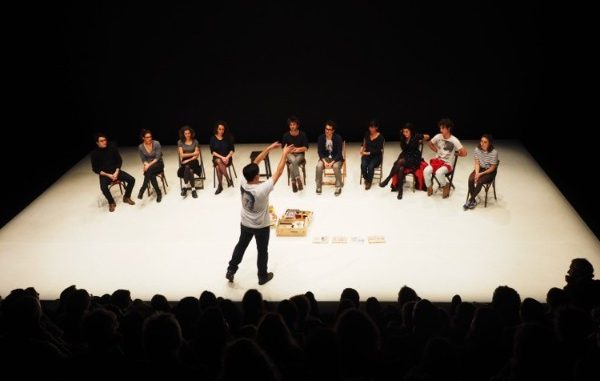 About The Israel Festival
The Israel Festival Jerusalem — an internationally-renowned interdisciplinary festival that has taken place each year for 57 years — presents high-quality productions in dance, music, drama and performance theater from all over the world, as well as original Israeli productions and free outdoor performances for the general public. 
This year's Israel Festival runs from May 23 to June 9 and will mark the State of Israel's 70th year of independence. It will present, in a first-time collaboration with the Israeli Foreign Ministry, a large-scale showcase of original Israeli works presented to dozens of leading international festival directors, the festival will present a wide variety of original Israeli works, including a festive opening event entitled HipHopLand, with top Israeli hip-hop artists, inspired by the values set down in Israel's Declaration of Independence. A gala opening event , scheduled to take place at the Sultan's Pool, will feature leading artists from the world of Israeli music.
As a major platform for artistic discourse and professional enrichment, the Festival includes several professional conferences and seminars, as well as master classes with guest artists.
The Israel Festival is proud to have been awarded the Europe for Festivals, Festivals for Europe (EFFE) Label for 2017–2018. In its citation, the jury described the Israel Festival as a "very good festival that combines innovative and emerging arts with more traditional forms. The festival combines a local with an international ambition. It is important to have in this region a cultural promoter for a more peaceful society. It is an organization that builds bridges between people."
For more information about the Israel Festival, visit https://www.israel-festival.org/en.
Copyright © 2018 Hoffman Communications, All rights reserved.
You are receiving this email because you and I have worked together in the past as members of the press.
Our mailing address is:
Hoffman Communications
Rachel Imenu 26A, Entrance C
Jerusalem 9322808
Israel