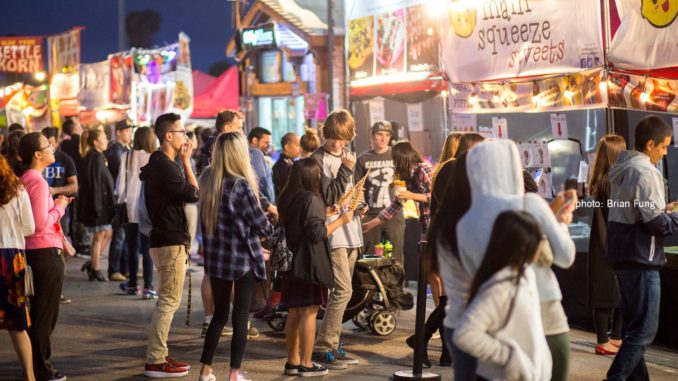 COSTA MESA – The "Farm Fresh Fun" theme brings together the animals and crops of Centennial Farm with the jubilation of the midway and iconic Fair treats to entice visitors to step outside their daily lives and enjoy a special – and very anticipated – slice of summer.
Celebrating the county's rich relationship with agriculture, the 127th annual OC Fair opens on July 14 and runs through Aug. 13, Wednesday-Sunday.
Go for the blue ribbon – enter your prize tomatoes, photography, woodworking project, floral design, cupcakes or hobby display and earn bragging rights. Enjoy the sound of music from day to night. Watch the antics of adorable baby goats and pigs. Get your thrills in the Action Sports Arena. It's all here at the 2017 OC Fair.
New this year
• The Knights of Valour will command the Action Sports Arena with full-contact jousting.
• Master chocolatier Stéphane Tréand will showcase his art in the form of chocolate.  He will reveal trade secrets in patisserie, chocolate and sugar.
• Discover fantastic and fun Fair food like Flamin' Hot Cheetos pizza, deep -fried ravioli on a stick, bacon-wrapped Brussels sprouts, gelato donut sandwiches, pizza burgers and pineapple on a stick wrapped in bacon, grilled and rolled in parmesan cheese
• The Minivan Mashup Demolition Derby will draw cheers as the most-despised vehicles meet their demise.
• Venture into the world of esports at the iBUYPOWER GameFest, a gaming exposition and competition featuring Oculus Rift demos and a live video game tournament with prizes up to $10,000. There will also be free-to-play games and exhibits.
• Fermentation Farm will offer guests an overview of fermented foods and drinks including a free sample of kombucha.
• Marvel at XPOGO, an extreme pogo stick demonstration.
• TV personalities, including kid chefs, YouTube stars, cookbook authors and mixologists will demonstrate their talents and offer tastings.
• New rides include the gigantic Le Grande Wheel XL, a super-sized Ferris wheel with 36 air-conditioned cabins sending riders soaring high above the Fair.
• Step up to the olive oil tasting bar and sample the winners of the Fair's first California-grown olive oil competition.
• The new Heroes Hall veterans museum will be open during the Fair and admission is free with Fair tickets.
• New culinary competitions include liqueur and salsa-making.
• Visit the Visual Arts Building and step into Kiel Johnson's vision of an awe-inspiring urban community garden – handcrafted in cardboard and paper – where fairgoers can create fruit, vegetables and flowers to be part of the display.
Returning Fair favorites
• The popular All-Alaskan Racing Pigs
• Comedy Hypnotist Mark Yuzuik
• Junior Livestock Auction with animals raised by local 4-H and FFA students.
• Budweiser Clydesdales return to the OC Fair Aug. 2-13
• Russell Brothers Circus
• OC Brew Hee Haw features craft beer and Orange County Wine Society will host wine tasting seminars and competitions.
• We Care Wednesdays offer free Fair admission when fairgoers bring food, clothing, school supply or book donations to support local nonprofits
• Thursdays are Kids Day and children 12 and under are free all day; Seniors get their free day on Fridays
Music
During the run of the Fair, the Toyota Summer Pacific Amphitheatre Summer Concert Series features headliners such as Pepe Aguilar, Colbie Caillat, Lynyrd Skynyrd and Jake Owen with Orange County's own Honey County.
The Hangar at the OC Fair will showcase the best in tribute bands and more including Queen Nation, Trevor Hall, Mariachi Sol de Mexico and Which One's Pink?, a tribute to Pink Floyd,
Pacific Amphitheatre is the new home of the Pacific Symphony's SummerFest 2017 featuring a five-concert lineup including a symphonic tribute to Bruce Springsteen with fireworks, Kenny Loggins performing with the symphony, a live performance of the "Jurassic Park" score while the movie plays, the Tchaikovsky Spectacular complete with live cannons and fireworks and a Hail to the Heroes concert.
Deals
Special deals and promotions include Best Deal Ever, half-off weekend admission from 11 a.m.-1 p.m. and rides for half the number of tickets. Taste of the Fair offers food samples for $3 on Thursdays noon-4 p.m. Opening day, July 14, features free Fair admission from noon to 3 p.m.  Little bookworms, ages 5-11, can read two books and earn three free carnival rides by filling out the form on
ocfair.com
.
Active military and veterans receive free Fair admission and can purchase up to six half-price general admission tickets with military ID. On Thursdays fairgoers can purchase a $30 unlimited carnival rides wristband and Fridays its $2 rides and 42 games from noon-4 p.m.
The Fair's 23-day season pass, Super Pass, is available for purchase now at ocfair.com.
The OC Fair Express runs Saturdays and Sundays from nine locations. Bus tickets are $2 each way and include a coupon for $3 Fair admissions. On the weekends free offsite parking is offered at Experian and a shuttle takes guests to the Fair from 11a.m.-midnight.
New community outreach program
OC Fair Kids Club, will launch this year with partner nonprofits and other qualifying organizations to bring underserved children the opportunity to experience the Fair and its educational programs.
FAIR BASICS
2017 OC Fair theme: "Farm Fresh Fun"
Dates: July 14-Aug. 13, Wednesday -Sunday
Hours: Wednesday-Friday: noon-midnight
Saturday-Sunday: 11 a.m.-midnight
Cost: Wednesday-Friday:  General (13-59) – $12
Senior (60+) – $7
Youth (6-12) – $7
Children 5 and under – free
Saturday-Sunday:  General (13-59) – $14
Senior (60+) – $7
Youth (6-12) – $7
Children 5 and under – free
Parking: Cars – $10
Buses and limos – $20
Pacific Amphitheater VIP – $30
Free offsite parking & free fair shuttle: Saturday-Sunday from Experian. Shuttle runs 10 a.m.-midnight.
OC Fair Express bus:
From nine locations Saturday-Sunday, $2 each way and receive a $3 Fair admission coupon per ticket. More information:
ocfairexpress.com
For more information, schedules, ticket sales and Super Passes, visit ocfair.com.
 The OC Fair & Event Center is located off the 405 and 55 freeways at 88 Fair Drive in Costa Mesa. For more information, please visit ocfair.com, become a fan at Facebook.com/OCFair, follow us at twitter.com/ocfair or call (714) 708-1500. Also, download the free OC Fair iPhone and Android apps available this summer.
2017 OFC Fair promo photos are at http://bit.ly/2OCFair17photos