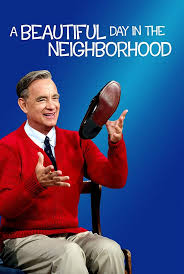 October 3, 2019 
Bryan Seltzer 
International Press Association 
IPAnews.com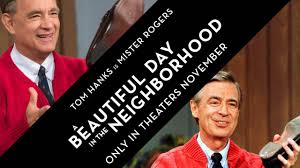 It IS a Beautiful Day in the Neighborhood not only on the Screen but in real life too as you watch the new film from Affirm Films, a Sony Company, which portrays Tom Hanks as Fred Rogers in this fabulous and home hitting film.
As you watch the film, a unique story starts to unfold of how Mr. Rogers helps a broken journalists (Matthew Rhys) from Esquire, that is on assignment to write about real-life heroes, Fred Rogers who was the only person agreeing to meet with him, see the world around him in a whole new way. Mr. Rogers has a very simple way of reaching those in need of help with anger with his special way of communicating and presenting a different view of the world around us and how to see it from a different perspective.
Tom Hanks talents makes you forget that it is he that is Mr. Rogers in the film. Bringing to life Fred Rogers in all his mannerisms of a calming spirit and voice, smile and real concern with the person he is interacting with, the true kindness of Mr. Rogers is witnessed throughout the film.
We see the transformation of a very angry journalists, Lloyd, with the help and persistent of this gentle man to see his broken world healed. What started out as a 400 word assignment becomes a 10 page, front cover story sharing the really more complex attributes of Fred Rogers. Lloyd learns how to forgive and love… his marriage is strengthened, the relationship with his father and family healed because of the personal interaction of Mr. Rogers. Seeing these real life changes and the effect that Mr. Rogers had on thousands reminds us that is so much more to be joyful and happy about!
The making of this heart touching film and the timing of its release is perfect as this "world" so needs what Mr. Rogers shared with so many on and off the screen/television. Many of the destructive social narratives of today are given a real life and honest way to be viewed and repaired, family values restored. Reconciliation is at hand for those willing to make the effort and have the true desire for a change in their lives! A must see film for basically all ages!