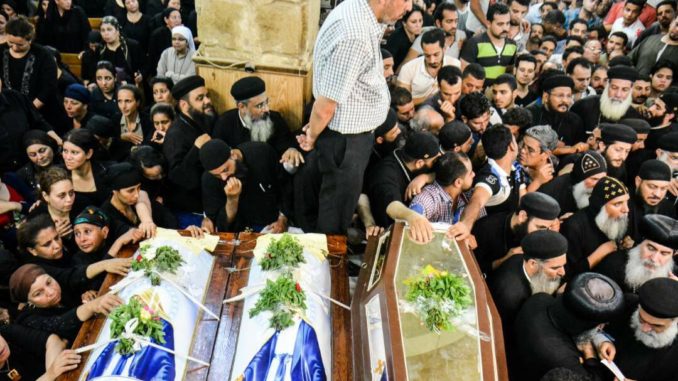 By Michael Ireland, Chief Correspondent for the ASSIST News Service (www.assistnews.net) & IPAnews.com
CAIRO, EGYPT 
Gunmen have attacked a bus carrying Coptic Christians in central Egypt, killing at least 28 people and wounding 25 others, officials say.
The BBC reports the bus was travelling to the Monastery of St. Samuel the Confessor, 135km (85 miles) south of Cairo, from Minya province, when it came under fire.
No group immediately said it was behind the attack, but Islamic State (IS) militants have targeted Copts several times in recent months, and vowed to do so again.
The Copts killed on Friday had been travelling to St Samuel's monastery to pray. Their bus was in a small convoy that was stopped on a desert road near Adwa police station on the border between Minya and Beni Suef provinces.
The BBC reports officials have cited witnesses as saying between eight and 10 gunmen wearing military uniforms attacked the convoy. The gunmen then fired at the vehicles with automatic weapons before fleeing in three 4×4 vehicles, they added.
Minya Province Bishop Makarios said many of the victims were shot at point blank range, the according to the New York Times. He said that children had been on the bus and were among the dead, adding that a pick-up truck in the convoy carrying workmen at the monastery was also targeted.
Minya governor Essam al-Bedawi said security forces had arrived at the scene and were fanning out along the road to the monastery and setting up checkpoints.
Copts make up about 10 percent of Egypt's population of 92 million.
www.CBNNews.com reports that between 10 and 12 gunmen reportedly opened fire on two buses carrying the Coptic Christians south of the Egyptian capital today, killing at least 28 people, including many children, and wounding 25.
A survivor said the attackers were masked and were wearing what appeared to be military uniforms. "We were 40 people, including children in the bus," said the survivor.
The Coptic Christians were on their way to pray at the remote monastery of Saint Samuel the Confessor, about 140 miles south of Cairo.
"They used automatic weapons," Essam el-Bedawi, the governor of Minya, told Egypt's state media.
Egyptian television showed pictures of a bus with its windows shot out and people injured in the attack being rushed to hospital.
No group has claimed responsibility for the attack, but www.CBNNews.com says the terror incident has the hallmarks of the Islamic State group.
Egypt's tiny Christian minority, which makes up about 10 percent of the population, has repeatedly been targeted by various Islamic groups.
"The growing number of these terror attacks is not at all reassuring," Father Rafic Greiche, spokesman for the Egyptian Catholic church, told a local television station.
Egyptian president Abdel-Fattah al-Sisi called for an emergency security meeting following today's attack which also brought swift condemnation from around the world.
Arab League Secretary-General Ahmed Aboul-Gheit condemned "in the strongest terms" the terrorist attack, expressing the league's "full solidarity" with Egypt against terrorism.
Iraq's foreign ministry denounced the "heinous terrorist" attack in a statement, adding that Baghdad "stands by the Egyptian people and government against all extremist and terrorist groups."
Israel's prime minister Benjamin Netanyahu's office also released a statement strongly condemning the attack and conveyed "condolences from the Israeli people to the Egyptian people."
In the United States, House Speaker Paul Ryan Tweeted: "Awful attack on Coptic Christians driving to their place of worship in Egypt. Praying for them. We must bring those responsible to justice."
North Carolina's congressman Robert Pittenger released the following statement: "The heinous attack on Coptic Christians…again reveals the dreadful reality of the ominous threat of Islamic terrorists on all who do not subscribe to this diabolical cult. We must be vigilant and unified to eliminate this enemy."
Dr. Robert Jeffress, a radio host and senior pastor of First Baptist Church Dallas, said president Trump was right when he described in his speech on Islam in Saudi Arabia that the war against radical Islamic terrorism was a "battle between good and evil."
"If the world doesn't do more in defense of persecuted Christians we are going to see tens of thousands more die, quickly," Jeffress said in a statement. "Let's be clear: Islamic terrorists want to do to Christians in Egypt exactly what they did to them in Iraq and in Syria."
The Islamic State even warned Muslims to "stay away from Christian gatherings," saying more massacres were being planned.
"Hundreds of families have already been displaced from North Sinai, and multiple suicide bombings have killed dozens already this year," Jeffress said. "Christians in the west must speak up more loudly for Christians in the east, and we mustn't forget that the terrorists would kill everyone of us if they had the chance."
Indian Bishop Joseph D'souza on Attack on Egypt Coptic Christians
From Hyderabad, India, the Most Rev. Dr. Joseph D'souza, moderating bishop of the Good Shepherd Church of India and president of the All India Christian Council, released the following statement on today's terrorist attack on Coptic Christians in Egypt: "I'm grieved beyond words to hear that our Coptic brothers and sisters in Egypt have yet again been the victims of another terrorist attack. Our church in India mourns with the church in Egypt — we are all members of one body, and if one of us suffers, we all suffer.
"While we always mourn the senseless loss of innocent life — especially of children — this latest attack burdens our hearts even more for a community that already has suffered so much. Let's not fool ourselves, Christianity in Egypt is under siege. This is the work of a barbaric and evil crusade to exterminate the people of the cross, and unless we intervene, countless more will continue to die.
"As world leaders gathered in Brussels this week, I've prayed that they would wake up to the plight of Christians — not only in Egypt, Iraq and Syria, but also Pakistan and Nigeria, and a dozen other places where Christianity is facing an existential crisis. Woe be to us if we do nothing to stop this."
What is the Coptic Christian faith?
The Coptic Orthodox Church is the main Christian Church in Egypt. While most Copts live in Egypt, the Church has about a million members outside the country.
Copts believe that their Church dates back to about 50 AD, when the Apostle Mark is said to have visited Egypt. The head of the Church is called the Pope and is considered to be the successor of St Mark.
This makes it one of the earliest Christian groups outside the Holy Land. The Church separated from other Christian denominations at the Council of Chalcedon (451 AD) in a dispute over the human and divine nature of Jesus Christ.
www.CBNNews.com said today's attack comes on the eve of Islam's holy month of Ramadan. For the next 30 days, Muslims around the world will pray and fast as an opportunity to cleanse their mind, body and spirit.
Christians worldwide are also being urged to join in by praying for Muslims during this time. An initiative called 30 Days of Prayer for the Muslim World asks Christians to "make an intentional but respectful effort during that period to learn about, pray for and reach out to Muslim neighbors."
The group publishes a booklet in multiple languages to help Christians pray more effectively for Muslims.
"The booklet contains daily readings that focus on various topics, people groups and geographical areas of the Islamic world," the website says.
"Each day's subject focus is followed by prayer points. It also features informative background articles and resources for involvement."
Photo captions: 1)The bus that was attacked in Egypt. 2) Scene of bus attack in Egypt (Al Arabiya TV). 3) Map of area where Egypt bus attack took place. 4) Bishop Joseph D'souza. 5) A Coptic service. 6) Michael Ireland.
About the Writer: Michael Ireland is a volunteer internet journalist serving as Chief Correspondent for the ASSIST News Service, as well as an Ordained Minister who has served with ASSIST Ministries and written for ANS since its beginning in 1989. He has reported for ANS from Jamaica, Mexico, Nicaragua, Israel, Jordan, China, and Russia. Please consider helping Michael cover his expenses in bringing news of the Persecuted Church, by logging-on to: https://actintl.givingfuel.com/ireland-michael
** You may republish this or any of our ANS stories with attribution to the ASSIST News Service (www.assistnews.net). Please also tell your friends and colleagues that they can get a complimentary subscription to ANS by going to the website and signing up there.
Photos: Coptic Media Center