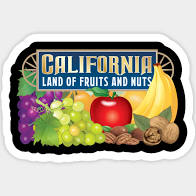 THE BABE IN THE BUNKER
Exclusive: Barbara Simpson reports from the 'land of fruits and nuts'
It's been said for years that California is "the land of 'fruits and nuts." It used to be regarded as tongue in cheek – now, however, it's reality.
There isn't a day that goes by that another revelation about California government and politics takes your breath away. It also takes your money away and your freedom, too – but that's another part of the story.
Almost everyone has heard about the terrible fires and the winds fanning them across the state. As I write, several are burning in Southern California, and the weather forecast is for more wind and more heat.
While California has a centuries-long history of such natural wildfires, the utility companies have received most of the blame for the recent blazes. The argument is that the power companies have not properly maintained their equipment, resulting in downed wires sparking the flames.
Such blame excuses the state and the feds of not properly maintaining the forests, allowing an accumulation of underbrush and dead trees, which provide tons of fuel for the fires, many of which are caused by lightning.
TRENDING: Pence to decide race? Law profs say VP allowed to 'count' electoral votes
Blaming the power companies results in them paying huge fines to the state, but they get their money back. It was just announced today that Pacific Gas and Electric, which services most of Northern California, will increase the monthly bills for every one of their customers in March 2021.
They say it's to cover the costs of improving their equipment to prevent fires! At this point, they say it will be an increase of at least $13.50 per month for each customer.
As one of their customers, I have no doubt that the monthly fee will wind up being higher, that I will have no choice, and I, along with the rest of their customers, will continue to be faced with mandatory power shutdowns when the wind blows again. Recently, Pacific Gas cut power for 800,000 customers, then a bit later, for 54,000 customers and, as I write, we are threatened with another shutdown.
But they will continue to mail us our monthly bills!
And our politicians continue to lead us down the merry road. They are promoting greater use of electricity for homes, businesses and, yes, our cars – the governor has declared that gasoline-powered vehicles must be eliminated – while at the same time municipalities are voting to eliminate any and all use of natural gas. All this, despite word from scientists that we don't have enough electricity to service current needs and that solar power can't make up the difference.
And speaking of money, most everyone knows that when a state is preparing a budget for the next year, it usually complains that there isn't enough money and taxes need to be raised to make up the difference. It's an annual ritual that ends up with higher taxes for the working guy or gal.
For those who are unemployed, there needs to be money for benefits. But those are for people who legitimately lost their jobs, right?
Well, in California, it's just been revealed that more than $400 MILLION has been paid to prisoners! That's right, unemployment checks sent to people in prison. In fact, the original claim was that $140 million was paid, but further investigation boosted that to $400 million. And now, the California Labor and Workforce Development Agency reported it will increase as the investigation continues.
Apparently, criminals submitted fraudulent claims that the state approved. The base benefits were $450 a week plus the additional aid Congress approved during the pandemic: $600 per week for four months plus $300 a week for the next six weeks.
According to figures obtained by AP, those claims were for 31,000 inmates. The state OK'd benefits for at least 133 inmates on death row, including Scott Peterson, who's facing death for the murder of his pregnant wife, and Cary Stayner who's facing death for the murders of four women near Yosemite National Park.
These revelations are all the more egregious in light of the fact that thousands of deserving Californians who applied for unemployment benefits have been denied or delayed because of bureaucratic ineptness.
State Sen. Jim Nielson calls the scandal "another sign of the incompetence of state government. It comes on the governor's watch."
He wants a legislative hearing focusing specifically on prison fraud.
Nine county district attorneys and a federal prosecutor are investigating the fraud, but at this point, it's unclear how many inmates actually got the money.
Riverside County District Attorney Michael Hestrin says prosecutors "have quite bit of evidence that the inmates are in on it," including recorded phone calls from prison in which inmates brag about how much they and their families are being paid by the state!
According to the DA, "The scale of it is frankly stunning!"
As Sen. Nielson said, it's on "the governor's watch' and so far, Gavin Newsom hasn't said much about this."
"He is more wrapped up in the scandal of his expensive dinner with friends and political pals at The French Laundry restaurant," the senator said, "while he tells the rest of Californians, as he did again today, to STAY HOME, WEAR MASKS AND STAY SAFE!!
Good advice, but it doesn't apply to the pols who tell the rest of us how to live. Thank you, Gov. Gavin Newsom.
Barbara Simpson, "The Babe in the Bunker," as she's known to her radio talk-show audience, has a 20-year radio, TV and newspaper career in the Bay Area and Los Angeles.