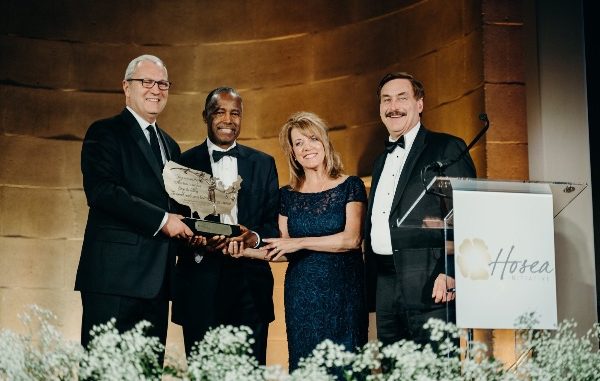 Legislators across the country are creating laws that can have a huge impact what we are forced to pay for.
Trump repeatedly promised he would nominate Pro-Life justices to the Supreme Court – and he has kept his promise.
September 30, 2020
As Planned Parenthood strategically distances itself from decades of awarding its highest honor in the name of its founder, the Margaret Sanger Award, HOSEA INITIATIVE honored President Donald Trump with the first Dr. Bernard Nathanson Courageous Witness for Life Award. The Award recognizes leaders who have shown tremendous courage to defend life in the womb in a culture that has rejected the sanctity of all human life. Ironically, Dr. Nathanson was once known as America's "Abortion King", cofounder of the National Association for the Repeal of Abortion Laws (today NARAL Pro-Choice America), who repented for his crimes against humanity and became a Child on God at St. Patrick's Cathedral in New York on December 8, 1996, and a courageous witness for life. It's the story that the abortion industry would rather disappear, but HOSEA INITIATIVE's founder, Terry Beatley, intends on making it widely known.

In a rare interview on December 1, 2009, 83-year-old Dr. Nathanson instructed Beatley to teach how he deceived America, including the courts, with the lie that abortion is "women's healthcare" utilizing eight points of propaganda. In addition, he instructed her to deliver his personal parting message: "Tell America that the cofounder of NARAL says to 'Love one another. Abortion is not love. Stop the killing. The world needs more love.'"

HOSEA INITIATIVE awarded Pres. Donald J. Trump the first Dr. Bernard Nathanson Courageous Witness for Life Award at the Mellon Auditorium Building in Washington, DC on December 8, 2019.
Secretary Ben Carson received the award on behalf of the President.
Mike Lindell served as emcee.
U.S. Senator Kevin Cramer served as Honorary Chairman.
U.S. Ambassador for Religious Liberty Sam Brownback was present.