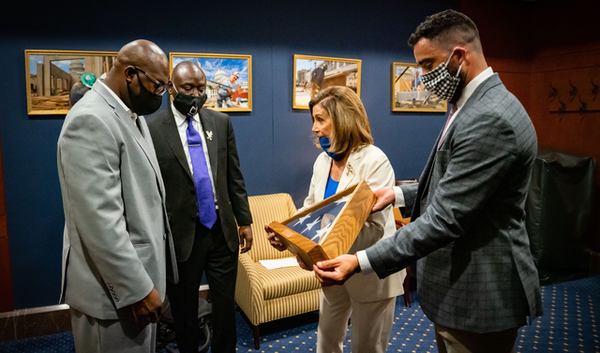 By: 06/16/2020 Source: American Post Gazette
Speaker of the House Nancy Pelosi last week gifted George Floyd's family a tri-folded American flag that flew over the Capitol, a gesture that sparked backlash from conservatives.

Pelosi presented the flag to Floyd's brother, Philonise Floyd, after he gave emotional testimony on Wednesday before a congressional hearing about police brutality.
George Floyd's May 25 death in Minneapolis police custody has spurred nationwide protests against racism and the police, along with rapid cultural and legal reforms.
Philonise Floyd's heart-wrenching testimony to @HouseJudiciary left its mark on us all. May this flag, which flew over the Capitol on the day of his brother's murder, serve as a symbol of our shared commitment to securing justice for George & all victims of police violence. pic.twitter.com/Dl3LXDGF7t

— Nancy Pelosi (@SpeakerPelosi) June 10, 2020
The reaction: Some on the right felt that Pelosi's gift was inapporiate given the tri-folded flag's association with military service members, first responders and American heroes.

Gretchen Smith, founder of the veteran support organization Code of Vets, commented: "[Pelosi's flag gift] is a departure from the norm. This gesture is a sacred testament to those who have served our nation either in the military or as a first responder or in civil service. It represents your character and commitment to our nation. While we are disgusted by what happened to George Floyd, he never served in any capacity."
Others echoed Smith's sentiment on social media.

Democrat Leader Pelosi Gifts George Floyd Family with US Flag — Spits on Memory of Men and Women Who Served Country https://t.co/OsGz2d9pBA

— Chuck Woolery (@chuckwoolery) June 16, 2020

A symbolic violation?: There are no regulations regarding the presentation of American flags by members of Congress.
While the Department of Veterans Affairs has regulations about casket flags, Pelosi's gift was presented after Floyd's funeral.

But a number of conservatives have pushed back against the lionization of Floyd, including on the cover of the New Yorker's June issue.

Powerful and yet so tragic. New Yorker cover remembers George Floyd, MLK, Tulsa, history of others killed. Do you know their names? pic.twitter.com/fQ7b1Mdnm8

— Rhonda Fields (@SenRhondaFields) June 15, 2020

Trump-supporting controversialist Candace Owens has taken issue with Floyd being remembered as an American icon.

In a June 4 Facebook Live video, Owens said, "I do not support George Floyd and the media depiction of him as a martyr for black America."
Her sentiments were echoed by Arizona State Representative Walt Blackman, who released a video the same day saying Floyd was "not a hero."