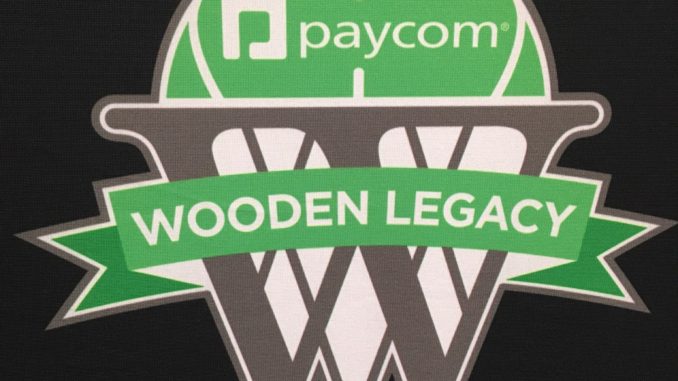 Paul Bartelt

Anaheim, Ca.   On Friday, the second round of the Paycom Wooden Legacy basketball tournament saw Wake Forest advance to the championship game on Sunday by defeating Long Beach State 88 to 75. Wake Forest established a new tournament record sinking 24 of 25 free throws in the win while grabbing 19 offensive rebounds. Wake Forest guard Brandon Childress led his team with 18 points. Andrien White made a three point shot  at the first half buzzer however Wake Forest went 0-10 on three point field goal attempts in the second half. 
Providence led 19-6 with 10:22 remaining in the first half until College of Charleston went on a 43-19 scoring run to take a 49-38 lead with 8:33 to play. College of Charleston eventually went on to defeate Providence 63 to 55 while making 18 of 19 free throws. College of Charleston guard Grant Riller led his team with 29 points. Providence guard David Duke scored 22 points in the loss.
In Fridays first evening game, UCF defeated Peperdine 78 to 65. The UCF Knights led 25 to 17 until Peperdine went ahead 37-31 early in the second half. UCF then went on a 22-6 run and led 53-43. Peperdine continued to fight and tied the game at 57, outscoring UCF 14 to 4. The Knights then took advantage of Peperdine missing close shots,outscoring Peperdine by 14 points in the second half.
In Fridays nights final game, nationally ranked number 14 Arizona ( 8-0 ) faced Penn and took a commanding 28-18 lead in the first half. Penn then scored 9 unanswered points and trailed by only one. However, Arizona got back on track and led by eight at half time. Penn went on to miss numerous shots in the paint and Arizona, who had four players score in double figures, went on to win 92-82. Penn did make it a four point game with 2:30 to play but Arizona guard Nico Mannion then scored five of his 24 points giving Arizona the victory as the Wildcats advanced to Sundays championship game against Wake Forest. The championship game will be broadcast live on ESPN at 6 pm Pacific.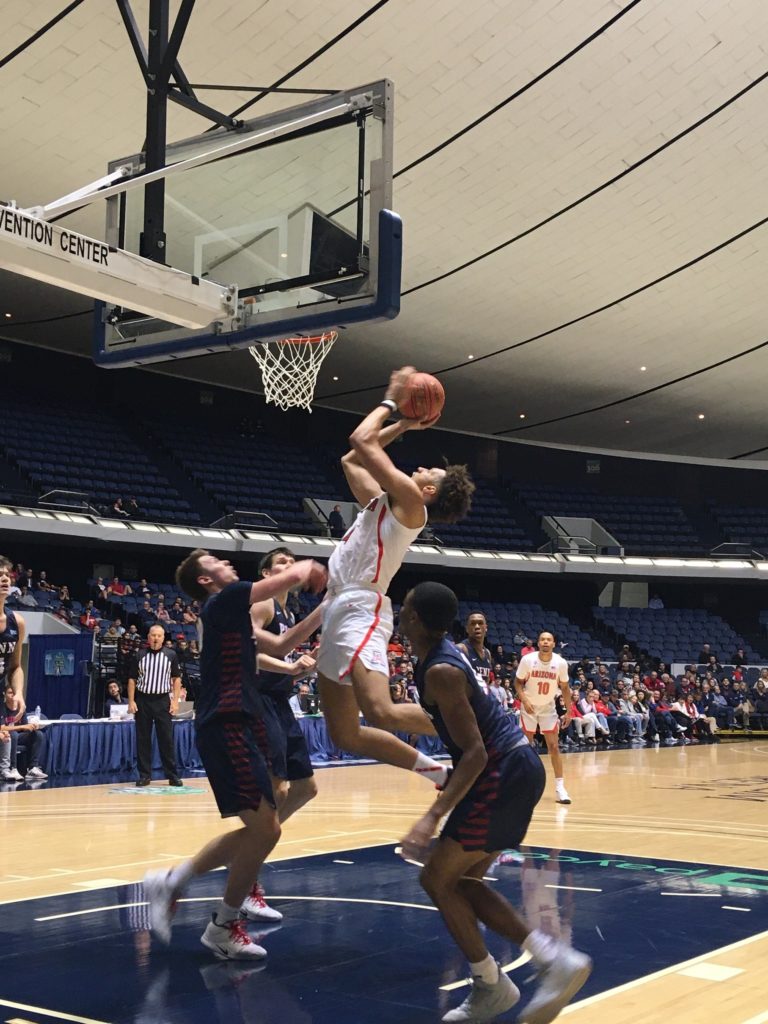 Other tournament games scheduled for Sunday include Long Beach State vs. Penn at 10:30 am Pacific on ESPN2, Charleston vs. UCF at 1 PM Pacific on ESPNU and Providence vs. Pepperdine at 3 pm on ESPNU.
ESPN Events, a division of ESPN, owns and operates 35 collegiate sporting events worldwide, broadcasts over 375 hours of live programing annually reaching 64 million viewers and attracts over 800 Thousand fans in attendance.
Paycom, a leader in payroll and HR technology, recently signed a three year title sponsorship with the Wooden Legacy.
In 2020, the annual Thanksgiving week tournament will featuire a new four- team, two day format broadcast live on ESPN. The Tournament announced next years teams featuring UCLA, Georgetown, Kansas and Virginia. All games will be played at the Anaheim Arena.