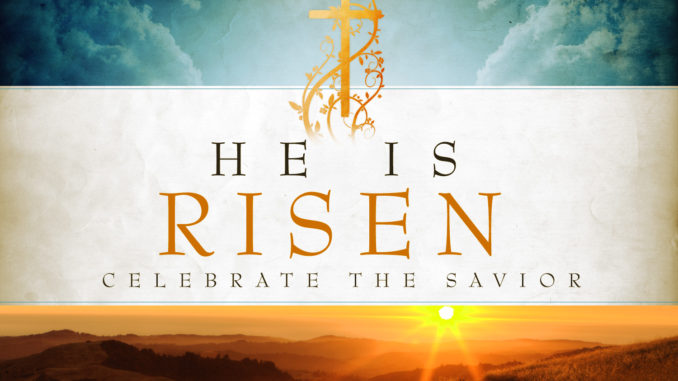 Can't See This Message? View in a browser
" Jesus said to her, I am the resurrection, and the life: he that believes in me, though he were dead, yet shall he live: and everyone who lives and believes in me shall never die. Do you believe this?" – John 11:25-26




Everyday is Easter!!!!  These words from John 11 are so powerful and

life giving! When we hear these words I hope that they erase all fear in us!  When we grab on to these words, fear of death leaves us, and there is also no fear to live life to the fullest – wide open!  It's all about faith in Jesus!




I am in a front row seat waiting with awe and anticipation of what the Lord is going to do next! I am humbled and privileged to not just watch but be part of this awesome God Story! God is weaving His love story in and through me. A love song for me and the many, many broken lives and hearts. True and real restoration and healing. I am honored to have this love revolution explode in my ❤️ heart!

– Julie Woodley
A Message to Friends and Potential Friends of
Restoring the Heart Ministries
It is a privilege to write this message to you who know and appreciate

Restoring the Heart Ministries

(RTHM), as well as to you who know little or nothing of this vital and fruitful Christian ministry.

 For almost 30 years my wife Judy and I have been prayer partners and financial supporters of RTHM, and close friends with its founder and director, Julie Woodley.

The purpose of this letter is twofold: to introduce the nature and work of RTHM and Julie Woodley, and to request prayer support and financial backing for RTHM in order to sustain and advance its highly beneficial ministries. Among the many excellent Christian missions and ministries, I have been supporting (some for decades), RTHM is one of the top three on my list in terms of lasting good accomplishments in the lives of hurting people.

RTHM was born because of one little word, a wonderful word when understood and applied as God intended when he created men and women. The word is "sex," and it is one of many gifts and qualities from God. Sadly, we are easily drawn away from God's intentions toward misuse and even perversion. We all know, to some extent at least, the horrendous evils that have been perpetrated throughout human history because of distorted and unrestrained sexual cravings.

From Julie's early childhood, she was sexually abused and sexually trafficked by her father. Her shocking story is presented in her autobiography, A Wildflower Grows in Brooklyn.  She now labors tirelessly at the enormous twofold task of stopping sex trafficking and ministering to victims of this worldwide slave trade, which, among global crimes, is second only to the illegal drug industry in terms of financial gain for the perpetrators.

Another major concern of  RTHM is to protect unborn babies, not only because of the preciousness of these little lives, but also because of the frequent psychological and spiritual devastation to mothers who undergo an abortion. Julie deeply regrets her two abortions before coming to Christ, and works, by God's grace, to protect the pre-born and to bring healing to those damaged by abortion.

The effectiveness of RTHM over the years has been great. Whether through Julie's healing sessions and groups, training programs for recovering women who desire to minister healing to others shattered as they were, Julie's writings, speaking engagements (radio, television, internet, and live radio presentations), or her DVD productions. RTHM continues to impact women and men daily.

With every dollar I have given to RTHM, and every prayer I have prayed for RTHM and its founder, I have found delight in knowing that I have a small part in the rescue ministries of RTHM.

Julie is trusting God for supporters who will give regularly to the ongoing financial needs of RTHM.  While Julie is extremely grateful for large one-time gifts for special projects, and certainly could not do her work without them, it is the ongoing support of faithful friends that provides the lifeblood for the daily and monthly needs of RTHM.

My wife and I choose to support RTHM with a gift that is deducted monthly from our bank account. We are free to change the amount at any time, and all gifts are tax-deductible. This very convenient method of support strengthens our commitment to RTHM by having a set amount deducted automatically. In addition, we contribute other amounts as God provides. Your gifts will be handled well by means of the RTHM website – www.Rthm.cc.

Please seriously consider this possibility as monthly supporters of  RTHM, for the sake of those women and girls, as well as some men and boys, who have been damaged, some severely, through the evils of sexual abuse, sexual trafficking, and abortion. The need is great, but Julie and the leadership of RTHM know that God "is able to do exceedingly abundantly above all that we ask or think" (Eph. 3:20).

Thank you for your prayerful decision. May our gracious Lord satisfy you daily with His loving presence, and may He restore your heart in those areas needing His powerful kindness!

In Christ alone,

Rev. Robert V. Rakestraw, Ph.D.

Professor of Theology Emeritus, Bethel Theological Seminary, St. Paul, MN

Founder and Director, Grace Quest Ministries

Author of GraceQuest  (autobiography), Heart Cries, and other books and materials.
Wildflowers are blooming everywhere!
We just completed an In the Wildflowers Facilitators Training at Shiloh Farms in Florida.  Amazing men and women with a heart to help many heal from their trauma wounds.
Kingdom Life University

will
soon have online courses of our

In the Wildflowers and Into My Arms DVD with curriculum Series! www.KLUonline.com
Julie's Speaking/Training Schedule
The Christian Working Woman

– Itasca, Illinois
"Unshakable Peace"
April 21st – 23rd, 2017


Two Presentations

:
"From Devastation to Joy" & "Making Peace with Y

our Circumstances"

Into My A

rms

Facilitator Training – Odessa, Florida
Shiloh Farms
Date: To be announced

In the Wildflowers

Facilitator Training

– Lombard, Illinois
Lombard Presbyterian Church
Date: Thursday, June

1st – Saturday, June 3rd


(For further information please go to our website: rthm/events)

In the Wildflowers

and

Into My Arms

Groups

– all over Chicago
Chicago Christian Counseling Center
Date: To be announced

Pastor

a

l Counseling

– 

Chicago,

Illinois


Chicago Christian Counseling Center
To make an appointment, call 631-374-7901